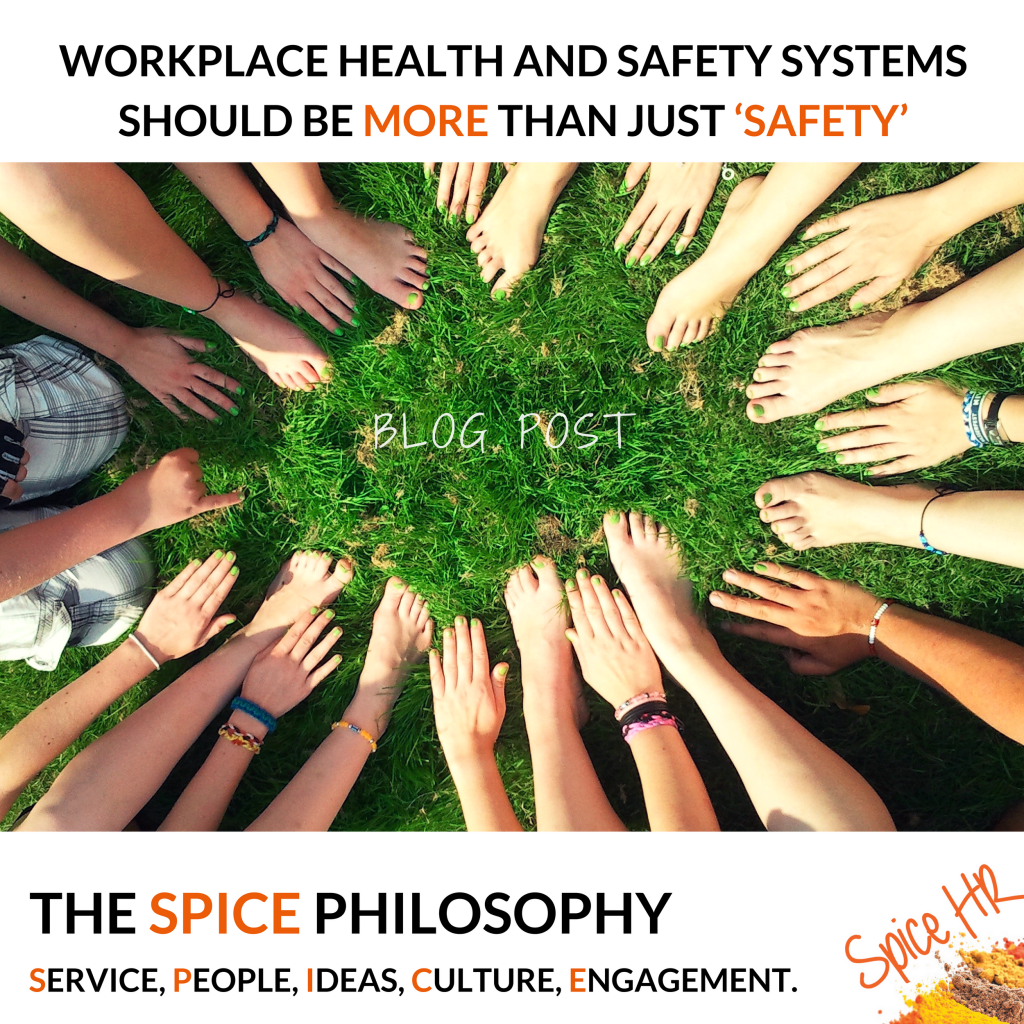 Alright, we know we said those dreaded three words… Health and Safety. But those words and the policies that support them are a necessary evil at all workplaces regardless of the size or type of business. We can bet you have dotted your I's and crossed your T's by having processes in place for safe work practices. But have you considered the health and wellness of your team as part of those processes?
On the third anniversary of the Health and Safety At Work Act we thought it was time to delve into the total safety at your workplace.
What is Workplace Health and Safety?
You probably know workplace health and safety as preventing injury, setting up safe practices and managing risks. It is all of these things of course, but in our eyes, workplace health and safety is so much more. Having all of these practices in place is no good if your team is stressed out and staff morale is at an all time low.
Why is that?
Because unhappy staff are not safe staff. Stressed staff are not safe staff.
For a completely safe workplace, you need to consider wellbeing and stress reduction as part of your policies. Let's look at ways you can do that.
Ways to Improve Staff Wellbeing at Your Workplace 
As you well know, your staff are your most important business asset. Without them the work wouldn't get done, the clients would not be looked after, and the sales would not be made. So, you want to do what you can to look after their wellbeing.
Stress is an absolute killer. It causes a drop in productivity, lowers the whole mood of the office, causes mistakes to be made, and results in staff taking sick days. You don't want an atmosphere of stress at your workplace.
Here are some ways to promote wellbeing and prevent stress…
Recognise Team Strengths 
Remember that skill matrix that we talked about? It's time to refer to it again. Knowing the specific skills of your staff members means that you can assign tasks that align with their strengths. Not only will they enjoy completing the task, but it will be done quickly and efficiently. That's a win for everyone! Being happy in your work reduces your chance of stress and improves staff morale. Sounds good right?
Assess Workloads 
There will be certain times when your whole team is under the pump. But that should not be the case on a daily basis. Overworked staff are stressed and unproductive. So keep an eye on each individual's workload to ensure it is not getting out of control. Try to spread the load across the whole team, and encourage them to help each other out. If your whole team are constantly under pressure, it might be time to reassess your staffing levels and consider adding to your team.
Offer Flexible Conditions
A little bit of give and take with your team will show them you respect and care for them. One way to do this is to offer flexible working conditions. The nature of your business will dictate how flexible those conditions can be.
You could try…
Different start and finish times to avoid traffic or to accommodate staff with families
Remotely working for some or all of the week
Job sharing
Shorter hours or a reduced work week
Raising Staff Morale
Happy staff are productive and positive. Creating a great atmosphere for your staff to work in is really important. Here are some ideas for raising staff morale…
Giving credit where credit is due – recognising when people are doing a great job and acknowledging it
Providing a space for creative brainstorming and ideas
Ordering a weekly fruit basket for the office to share
Organising team building activities away from the office to promote camaraderie
Offering on-site workplace massage
Regular team catch ups to address issues as they arise
Discouraging negative office behaviours
It might be surprising to think of stress management and staff wellness as part of your health and safety procedures. But when you examine it closer, it really does make sense. Staff that are happy in their work and aren't stressed will be safer and more productive.
Have you thought about how you can incorporate wellness into your workplace health and safety? If you have not yet considered it, now is the time to change that. Don't hesitate to get in touch with us here at Spice HR if your wellness policies need some work! We are experts in this area and are happy to share our knowledge with you.